SELF CARE is an everyday challenge for most of us. We are busy with work, children, careers and finding time to take care of ourselves is the last thing on our to-do list. Working out and eating healthy doesn't have to be a rollercoaster ride. WE created a program to help our members have a balanced day with 8 daily habits. It can be as simple as sipping water or herbal tea upon waking, walking 10 minutes after lunch to help your digestive system or going to bed 30 minutes earlier. The big picture is to help you build healthy habits that become a part of your daily behavior.
We recommend starting with a meal plan that is hassle free and helps you get your daily nutrition needs met. This can be hard for most people without some kind of planning or guide. Below is a Daily Nutrition plan put together by our nutritionist Caitlin. The plans focus is to help you add 5 servings of vegetables and 2 servings of fruit to your day.
CAITLIN'S NUTRITION STUDIO SAMPLE MEAL PLAN
Breakfast GOAL: 1 Fruit + 1 Vegetable
Roast 1 sheet pan vegetables over the weekend. Add 1 cup leftover vegetables to 1-2 scrambled or boiled eggs. Add a side serving of 1 cup berries.
Savory Oatmeal: Add 1 cup sautéed onion, kale, mushrooms and apple to your oatmeal.
Enjoy a smoothie with 1 cup broccoli + 1 cup berries.
Lunch GOAL: 2 Vegetables
Prepping a soup over the weekend helps you set up for a nutritious week of eating!
Chicken soup with 2 cups of vegetables, you can pack in extra arugula, kale, or spinach if it seems veggie shy.
Lentil Stew or Chili with 1 cup of root vegetables (parsnips, beets, rutabaga, potatoes) + 1 cup of greens like arugula, kale or spinach.
2 cups Vegetable Salad (you can slice onions, broccoli, tomatoes, and chickpeas + citrus and keep in the fridge for 5 days, add this to greens.) You can also add protein such as chicken or left over grilled salmon to get more protein.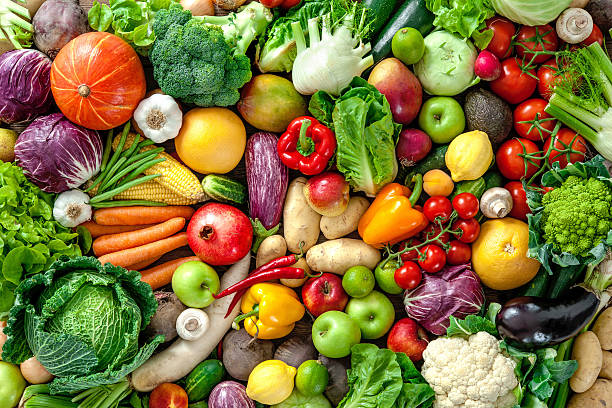 Snack GOAL: 1 Fruit
1 cup fresh fruit with Greek yogurt.
1 cup fresh fruit with 1⁄4 cup nuts.
Dinner GOAL: 2 Vegetables
Add 2 cups sautéed or steamed vegetables (onions, zucchini, carrots, eggplant, tomatoes, peppers to pasta and preferred protein.
Add 1 cup roasted vegetables to a power bowl (beans, protein, greens, and fresh vegetables)
STIR FRY: 2 cups raw vegetables, quickly saute matchstick carrots, cabbage, zucchini, sweet potatoes + favorite bean noodles + cooked protein